The German Club Dhaka facilities for its members and guests include a Restaurant & Bar, Swimming Pool, Tennis Court and others listed bellow. A Club member can bring up-to 15 members per month. Guest must be accompanied by the member at all time.
Facilities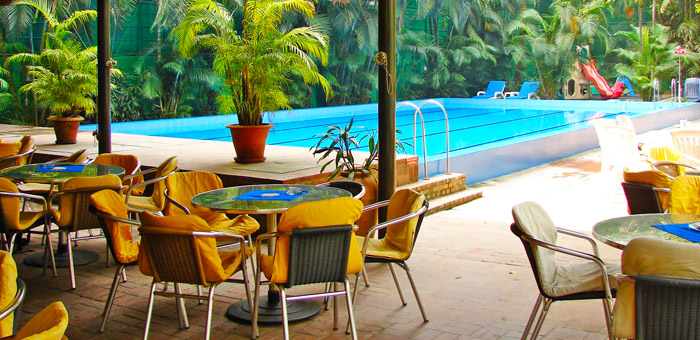 The restaurant is open daily from 07.00 till 22.30 hours everyday. Apart from the regular menu, the restaurant offers breakfast, a weekly special, a daily special and a BBQ from time to time. Every Tuesday Pizza Night starts at 18:00 hours onwards. Sunday to Thursday from 12:00 till 15:00 hours the restaurant is open to all expat club card holders.
Swimming Pool
The Swimming Pool is open from 7.00 till 22.00 hrs. There is a also a toddlers pool with fountain.
Placing food, drinks, cigarettes, empty plates, glasses, ashtray etc. on the pool walls is strictly prohibited due to safety and hygienic reasons.
Tennis/Multipurpose Court
This court is available for football, basketball, badminton, tennis and other games. It is up to the members to organise the events in co-ordination with the management of the Club. For tennis, reservations on the board next to the tennis court must be made. Members can play with tennis mates or take lessons from the Club's tennis staff.
Every Monday from 09:00 till 12:00 hours is open ladies tennis and from 18:00 till 22:00 hours mixed social tennis, guests are welcome, no fees.
Billiards
A wonderful billiards board is available for exciting games with family and friends.
Darts
Dart season is from September to March. Darts competition amongst international clubs takes place every Tuesday evening from 20.00 hours onwards. Please check our notice board for dates.
TV and Library Room
TV, DVD & VCD players are available. A wonderful selection of books, magazines etc. in English and German languages are available to readers of all ages.
Children
A small outdoor playground is available for children as well as an indoor kids room. Children under age of 12 are not permitted at the club without parental supervision.